Posted:
Monday, June 16, 2014
Comments: 0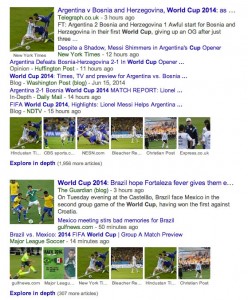 With the FIFA World Cup just starting a couple days ago, be prepared for World Cup mania to reach all ends of the world. As you read this your Facebook news feed is probably saturated with World Cup talk and your favorite sports bar is probably already packed with crazed soccer fanatics. Every 4 years Google Trends shows a huge spike in search volume for the term "World Cup". However, one place where the World Cup will be limited is on the paid search section of Google search results. The reason for this is because FIFA, the organization that puts on the World Cup, has trademarked terms such as "World Cup", "FIFA", and even "Brazil 2014".
As a car dealership how does this news relate to you? Well, it's a relevant reminder of Google Adword's trademark policy. Adwords current policy allows advertisers to bid on others' trademarked keywords; however, advertiser are not permitted to use trademarked terms in the ad text. This means that if you're a Honda dealer, then you won't be able to use the terms Ford, Chevy, or Nissan in your ad text. This can be quite the hurdle if you want to use PPC to help sell your used car inventory.
There is a way to circumvent Adword's trademark policy. Google's trademark policy regarding resellers states the following:

The ad's landing page is primarily dedicated to selling (or clearly facilitating the sale of) the goods or services corresponding to a trademark term.
This means that if you're a Honda a dealer that wants to write an ad for the 2011 Ford Focus in your used sales lot you're going to need to make the landing page for your ad the product page for that specific vehicle. You could go through your whole inventory and write sets of trademark compliant ads for each vehicle in your inventory. However, you probably don't have time for that. You're too busy selling cars.
With Used Dynamic Inventory Based Ads you can have Adwords trademark compliant ads automatically built for every vehicle in your inventory. Ads are directly linked to vehicles in your inventory and is refreshed daily, so you'll only advertise vehicles that are currently in your inventory. As vehicles are added to your inventory, ads are automatically generated. Imagine all the time you'll save. Thus, freeing you up to watch team USA make a miracle run at the Cup. Fingers crossed.